13th Annual Watercolor Workshop & Folk Music Week -- October 17-21, 2010


Watercolor artists will gather from far and wide to be a part of this 13-year old tradition. Choose from the following classes:
Victoria Lenne, Experimental Watermedia,
Pauline Payne, Getting the Most from Acrylics, or
Wayne Spradley, Realistic, Transparent Watercolor(see his artwork above).
Or join husband-wife teams Bob & Rose Taunton and Deborah & Allen McCord as they teach a variety of folk instruments. Have you ever purchased an instrument at a festival but never learned to play it? This is your chance! Our instructors will give group and individual lessons. You'll also have time to practice new skills and enjoy a hike in the woods. Choose one or more:
---
Old-Time Music & Craft Weekend +, November 5-9, 2010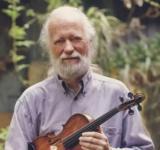 You don't want to miss this all-star lineup! Back by popular demand are: James Bryan (at right), Bettye Kimbrell, Jim & Joyce Cauthen, and Adam Hurt. New this year we'll have Tena Payne teaching pottery,Chris Hale teaching rustic furniture, Jim Holland on lead guitar, and Luke Richardsonon harmonica (far right).
Be a part of folk art and music legend -- take a class with one of these masters:
Intermediate / Advanced Fiddle, James Bryan

Beginning Fiddle, Jim Cauthen

Rhythm Guitar, Joyce Cauthen

Old-time Lead Guitar, Jim Holland

Clawhammer Banjo, Adam Hurt

Harmonica Clinic (additional, 1-hour class), Luke Richardson

Quilting: Native American Leaf Pounding Technique, Bettye Kimbrell

Pottery: Sculptural Masks & Beyond, Tena Payne
---
Registration deadlines are as follows:
October 2, 2010 for Folk Music week

October 21, 2010 for Old-Time Music & Craft weekend
We will still consider registrations after the deadline. Please call Danielle Dunbar at (205) 563-9990 or emailfolkschool@campmcdowell.com for class availability. We hope you'll join us soon. Please tell your friends and family about us!
Camp McDowell
105 DeLong Rd.
Nauvoo, AL 35578